Sedation dentistry, as the name implies, is a technique used by a trained dentist to provide a relaxing and anxiety-free experience for people receiving dental treatment. A major benefit to the sedation technique is that people often feel the procedure lasts only a few minutes when in fact, it might have taken hours to perform. Most people rarely feel any discomfort after the procedure.
Is it difficult for you going to the dentist? Once you've experienced sedation dentistry with us, you'll never be afraid to go to the dentist again. Pearl Dental Care has mastered the art of sedation as well as gentle, caring, and quality dental treatment.
You'll be sedated just enough to be unaware of the treatment, as if you were relaxing. You'll feel refreshed, with little or no memory of what was accomplished.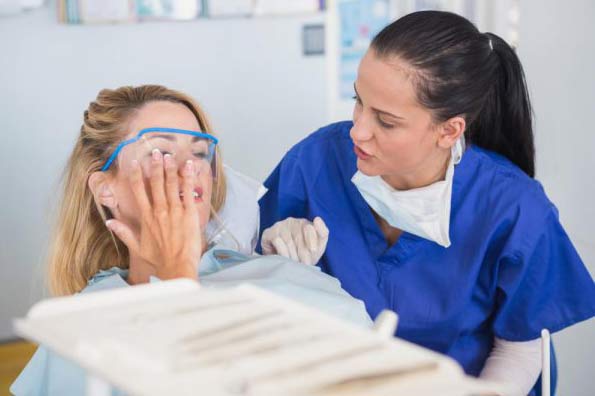 Suffering from Dental Pain? Get Relief Today
Call for Same-Day Emergency Dental Appointment
909-344-3543
Dr. Changela and Mandeep Patel Is a Top Rated Emergency Dentists in Pomona

Because you are completely comfortable, we can do years of dental treatments in one or two visits. We can replace crowns or dentures, restore sore gums to good health, whiten yellow or stained teeth, fix a chipped tooth, and more. People with very busy schedules can get the dental care they need, easily and quickly.
If you have been putting off getting a beautiful smile because you fear treatment, had bad experiences in the past, have difficulty getting numb, have a bad gag reflex, have very sensitive teeth or hate shots, you have now found the answer to your concerns.
Imagine being able to smile with confidence and chew your food without pain. No wonder so many patients say: "Thank you, Doctor. Sedation dentistry changed my life."





We Accept Most Insurances

Care Credit, Credit, Cash, & checks are also welcomed.