Dental bridges are made from three types of material, solid gold for reliable long wear, porcelain fused to a gold base for strength and beauty, and high-strength metal-free porcelain for optimum cosmetic results. With proper care, your new bridge will increase your overall health and instill confidence for years to come.
Why are dental bridges recommended?
Dental bridges are a good option for replacing missing teeth. Bridges help enhance your smile by filling teeth gaps, therefore, restoring the functionality of your teeth and reducing discomfort.
If you have lost your teeth due because of an injury or dental disease, Pearl Dental Care's trusted Pomona dentists will determine if it's a dental bridge, a dental implant, or a combination of the two treatments are most appropriate for your specific needs.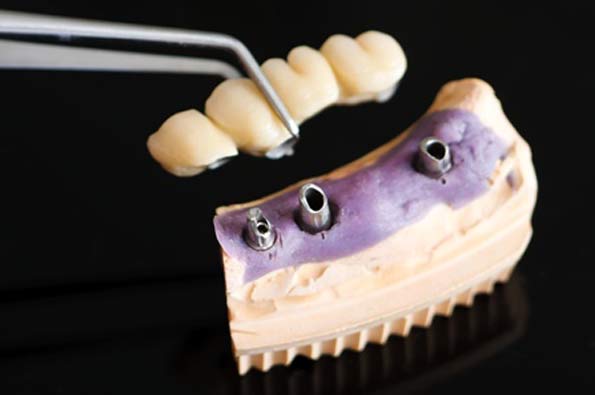 What are dental bridges?
Dental bridges consist of two parts: a replacement tooth and a dental crown. The replacement tooth is placed in the gap left by a missing natural tooth is missing and is supported by a crown on either side. These crowns are attached either to the adjacent natural teeth or to dental implants.
Replacement teeth are made of either ceramic or porcelain fused to metal. The type of material will be chosen based on your needs and goals, and the location of the missing tooth to be replaced. Ceramic replacement teeth are more suited to replace missing front teeth, while porcelain and metal are better options for replacing teeth in the back of the mouth.
What is the Purpose of a Dental Bridge?
You know that you are unhappy and conscious of how the gap from your missing tooth makes you look. A dental bridge will improve your spirits making you smile more easily. And when you no longer have a gap in your teeth, not only will people understand you better when you talk, your digestion will be improved because you can chew your food more effectively.
With no gaps in your teeth, your jaw line will maintain its current alignment, and your teeth will remain in place. Other people won't be able to tell that a porcelain dental bridge is not a natural part of your mouth. What's more, the force created when you bite will not be concentrated in one area.
Suffering from Dental Pain? Get Relief Today
Call for Same-Day Emergency Dental Appointment
909-344-3543
Dr. Changela and Mandeep Patel Is a Top Rated Emergency Dentists in Pomona

When are dental bridges needed?
Porcelain dental bridges are recommended when there is one or more teeth missing that affect your smile and appearance. A bridge can also correct your bite, your speech, the shape of your face, and even prevent gum disease and tooth decay as a result of food accumulated in the gap.
Why do we need to replace missing teeth?
If you live with missing teeth, you have to replace them for many reasons:
To improve your appearance.
To reduce the strain on the teeth at either side of the missing tooth.
To prevent the neighboring teeth from leaning into the resulting gap and altering the bite.
To prevent gum disease and tooth decay due to accumulation of food in the gap.
Having said all this, remember that your oral health is always connected to your overall health. Neglecting to correct even minor gaps in your teeth will have an effect on how you smile and interact with other people. So consult now with a cosmetic dentist to get a complete and confident smile.
Complete your smile again
Whether you choose solid gold bridges, porcelain bridges fused to a gold base, or metal-free porcelain bridges, we assure you that your new dental bridge will improve your oral and overall health and keep you carefree and smiling every day.
Don't let missing teeth make you afraid to smile. Call us today at 909-839-1004 to schedule an appointment and learn how dental bridges can give you confident and beautiful smiles.