What are Dental Implants?
Dental implants are a popular restorative dental treatment that is both efficient and convenient. Whether you are missing a single tooth or multiple, a dental implant procedure can restore your smile.
With the right implant expert, you can receive an astonishing level of restoration with either mini implants and full dental implants. Straightforward and backed by proven results, a dental implant treatment is an excellent solution for tooth loss.
They are designed to replicate and feel completely natural while still being fully functional and preventing further tooth decay or trauma to the mouth. Titanium dental implants have bio-compatible materials that offer durability and strength for long-lasting functionality.
At Pearl Dental, we are committed to bringing patients noticeable results. If you have suffered tooth loss for any reason, dental implants might be right for you.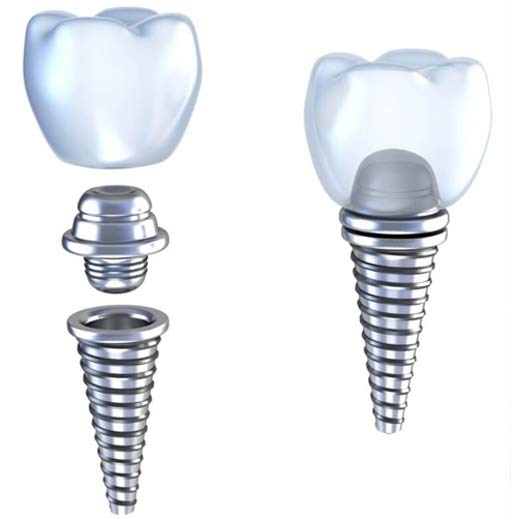 Benefits of Dental Implants
Missing teeth can have a negative impact on your appearance and self-esteem. But, they are not merely a cosmetic problem. Without a balanced set of teeth, oral health problems can also arise.
For those suffering from this condition, there are many benefits to be found in dental implants:
Improved self-esteem and appearance – implants will be matched with your natural teeth. With a complete set of beautiful teeth, you'll never be afraid to smile.
Improved speech – Implants remain firmly in place. Compare this to ill-fitting dentures that can cause your teeth to shift and your speech to become slurred and difficult to understand.
Increased comfort and convenience – implants are permanent teeth replacements that never have to be removed like dentures. They also feel like natural teeth which make them comfortable to have in your mouth
Better and easier eating – implants function and feel like natural teeth, unlike awkward dentures that can make eating difficult and prevent you from enjoying certain foods
Better oral health – implants do not affect your healthy teeth, unlike tooth-supported bridges that require adjacent teeth to be reduced.
Durability – implants are incredibly durable. They are meant as a permanent solution to tooth loss, lasting for several years or even a lifetime when well-maintained
Anatomy of a Dental Implant
A complete dental implant is composed of three parts.
The Implant: the "root" of the procedure. The implant is usually fused to the jawbone for stability and durability.
The Abutment: the go-between. This piece connects the base implant to the crown.
The Crown: the "tooth" part. This is a custom-made replacement that matches your natural teeth color, shape, and size.
Dental Implant Placement
The placement of your implants can depend on the type of implant you are receiving. Two standard types are used:
Endosteal Implants
These are usually titanium and are the most common type used. An incision is made in the gums, and the implants are placed directly into the jawbone. They look more like a metal rod that serves as an anchor for the crown.
Subperiosteal Implants
These are a more suitable option for patients who might not have enough healthy jawbone for endosteal implants. Unlike endosteal implants, these are placed on the jawbone, rather than in it. They are a metal framework that sits under your gum, supporting your replacement teeth. Even if you have a healthy jawbone, subperiosteal implants can be a good option if you have multiple teeth to replace.
Dental Implants Replacements
Though intended to be permanent, patients will occasionally need a previous implant replaced. The cause of this could vary. Maybe the last implant was incorrectly sized by your previous dentist, or the connection to the jawbone has deteriorated. Improper care of the dental implant can also lead to needing a replacement.
Whatever the reason, the team at Pearl Dental will work with each patient to determine what the cause was. We will develop a plan to overcome the obstacle and provide you with a functioning implant.
Dental Implant Restoration
In some cases, the crown or abutment part of the implant may need restoration. Since this is not a full replacement, it is typically a convenient procedure for the patient.
Perhaps the crown has chipped or become loose. If this is the case, restoring an implant is a straightforward procedure. However, it is important to address the issue as soon as possible. A loose or chipped implant can lead to other complications down the road.
Same-Day Dental Implants with a Top-Rated Implant Dentist
We offer an exclusive free consultation for our patients who require same-day implants. Perhaps you've lost a tooth and have a wedding to attend in a few days. Or you want to have your smile at full capacity before a life-changing job interview. A same-day implant can restore both your smile and your confidence.
Am I a Candidate for Dental Implants
Dental implants can help a wide range of patients. We recommend a few factors that will make a dental implant procedure more likely to deliver the results you deserve.
Be in good physical health
Enough bone density and material in your jaw to support the implant
Healthy gums
During your consultation, Dr. Changela will evaluate your situation and work with you to develop a treatment plan.
After the Procedure: Dental Implant Care
Dental implants are highly durable. However, they do need regular care to improve their longevity. Just like your natural teeth, it is essential to keep them clean. Softer brushes and non-abrasive toothpaste will keep wear and tear to a minimum while keeping your implants clean. Flossing is also a must.
After your procedure, you will be provided with a full list of care tips to keep your dental implants (and your smile) healthy for years to come.
Schedule a Consultation Today
There is no need to live without a full set of teeth. Whether injury or tooth decay has left you without a full smile, dental implants are an excellent solution.
Don't hesitate to take the first step in restoring your smile and ensuring continued oral hygiene. Schedule an appointment at Pearl Dental today. We work with each patient attentively to match a treatment plan according to their needs. If you have any questions, our team of professionals is ready to help.