Dental technology has made replacing lost teeth more accessible than ever. Everyone has heard of dentures, but developments in endodontic practice have procured a procedure that combines the strength of implants with the convenience of removable dentures.
Years go by, and teeth decay can chip away at your smile, or injury can suddenly result in a loss of multiple teeth. Dentures have long been a way of coping with severe tooth loss, but they are far from perfect. They can make eating more difficult, can become dislodged, and can even wear down the bone in your jaw.
Pearl Dental offers a straightforward solution. You can receive dental implants that support dentures while still allowing for the convenience of removal.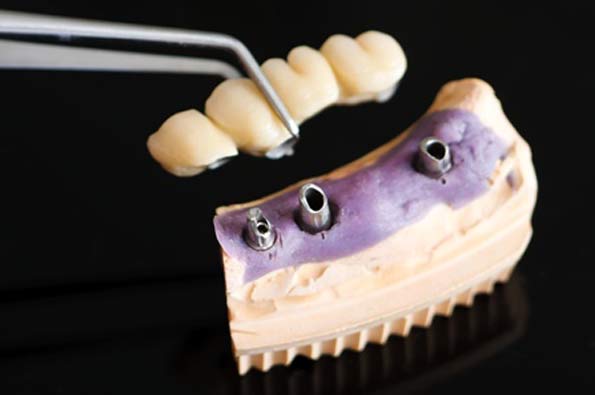 What are Dental-Supported Overdentures?
Typically, dental implants are a means of replacing a single or small number of lost teeth. They are metallic implants that are placed into your jaw. But what if you are missing most or all of your teeth along your upper or lower jaw?
Individually replacing each tooth would be costly and time consuming. In short, it is rarely feasible. Instead, you can receive as few as two implants to support an entire set of dentures. You can restore your smile to a full set of replacement teeth without the hassle of individual replacement.
Much like traditional dentures, implant-supported dentures are removable. They combine convenience and stability into a single package.
How Does It Work?
In short, the dental implants serve as anchor points for your dentures. Made from titanium, the implant posts are resistant to decay. As they are installed in your jawbone, they become a permanent part of your mouth. By serving as a go-between for your jaw and your dentures, they prevent additional wear on your gum and bone material.
With the stability provided by the implants, any task becomes much simpler. Eating, speaking, and smiling all become just as easy as when you had all your old teeth.
For lower dentures, as few as two implants are needed. Upper jaw implants typically require at least four to secure overdentures properly. The exact number and placement of implants will vary depending on your jaw structure and density.
If you have already made an investment in traditional dentures, speak with Dr. Changela about possibly modifying them to work with implant supports. This won't always be possible, but it can work in some cases.
The Procedure
Installing dental implants is a straightforward procedure that can be completed in a single day. Typically, the patient needs only local anesthesia, meaning they can drive home after the procedure.
The total length of the procedure can vary depending on the number of implants. It usually lasts only 1-3 hours. After the procedure, there may be some discomfort in the implant area. Over-the-counter medication usually can handle this well enough.
Recovery Time
Though the surgery is quick, healing can take an average of six weeks.
Don't worry. During the recovery period, you will have a temporary, modified denture set that won't irritate the implants. This allows them to heal and fuse to your jawbone properly while still allowing you to eat solid foods.
After this time, you will be able to use your implants with your dentures. Your smile will be back, and you will have all the perks of a full set of teeth.
Schedule a Consultation Today
There is no need to live without a full set of teeth. Whether injury or tooth decay has left you without a full smile, implant-supported overdentures are an excellent solution.
Don't hesitate to take the first step in restoring your smile and ensuring continued oral hygiene. Schedule an appointment at Pearl Dental today. We work with each patient attentively to match a treatment plan according to their needs. If you have any questions, our team of professionals is ready to help. Call us at 909-344-3543 or book an appointment online.