Dental veneers are dental restorations that look like thin shells that placed over the front or visible parts of the tooth to be restored. Veneers are made of tooth-colored composite resin or porcelain used to improve the shape, color and overall appearance of your teeth.
A veneer is a more conservative treatment than a dental crown and are often used if the tooth it will be applied on is still strong and healthy. There are two types of veneers, ceramic veneers that are produced by a dental laboratory and resin-based composite veneers.
Veneers are routinely used to fix teeth that are:
Discolored from root canal treatment, excessive fluoride or medication
Worn, chipped or broken
Misaligned, uneven, or irregularly shaped
Causing gaps between them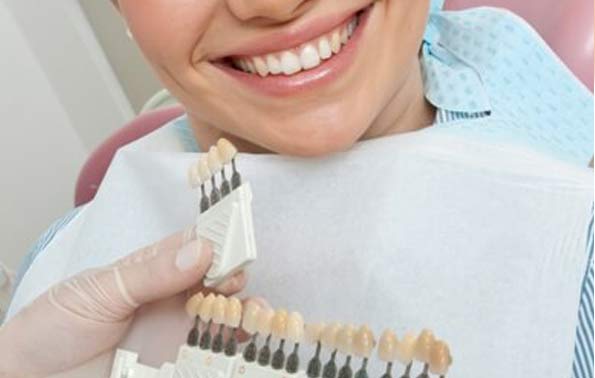 Dental veneers Pomona
Your trusted Pomona dentists will first examine your teeth and discuss what kind of veneers will be used. You and your dentist will choose the best veneer color for your new smile. After making a decision, your teeth will be prepared for the dental bonding.
Part of the veneers preparation is taking a mold of your teeth sending this mold to a dental laboratory to make your veneers. Before you leave the office, your dentist may apply temporary veneers. If you don't get temporary veneers, however, you must avoid cold foods and drinks because your teeth may be more sensitive than usual because of the veneers preparation.
Suffering from Dental Pain? Get Relief Today
Call for Same-Day Emergency Dental Appointment
909-344-3543
Dr. Changela and Mandeep Patel Is a Top Rated Emergency Dentists in Pomona

Veneers After Care
Your dental veneers may last for years if you take good care of them properly. Here's some after treatment care pointers:
Use a soft toothbrush for brushing your teeth
Don't use harsh types of toothpaste – the chemicals in these will affect your veneers
Floss between each of your tooth at least once a day to remove plaque
With flossing, start in one place and work carefully around your mouth
Avoid foods and liquids that could stain your veneers, like red wine, tea, coffee, and sports drinks
Avoid using tobacco
With proper care, your new veneers will greatly improve your appearance and increase your confidence for years to come so be sure to practice good oral hygiene and follow the after treatment care tips your Pomona dentist provides.