Dentures are removable prosthetics used to replace missing teeth. Because of modern advancements in dentistry, dentures are a lot more aesthetic and comfortable today.
Types of dentures
There are two types of dentures – complete dentures or partial dentures. Your trusted Pomona dentists will help you choose the type that best fits your needs – which will be based on the number of teeth which must be replaced and the costs involved.
Complete dentures have an acrylic support designed to have the same colour of your gums. The base of an upper denture covers the roof of your mouth or palate, while the base of a lower denture is shaped more like a horseshoe so as not to disturb the tongue.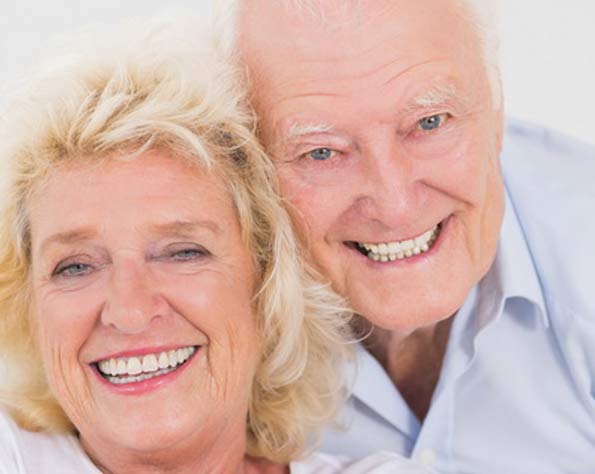 Partial dentures are best for when there are a few natural teeth still left in the jaw. Metal clasps lock around these teeth to stabilise the partial denture in the mouth. The base of a partial denture can be made out of plastic or metal. The replacement teeth will be matched closely to the color and shape of your existing teeth so that it looks as natural as possible.
Suffering from Dental Pain? Get Relief Today
Call for Same-Day Emergency Dental Appointment
909-344-3543
Dr. Changela and Mandeep Patel Is a Top Rated Emergency Dentists in Pomona

Why get dentures?
Injuries and dental disease can cause you to lose some or all of your natural teeth. With dentures to replace your missing teeth, your oral and overall health will be significantly improved as well as your appearance. If you have a complete set of teeth in your mouth, this will prevent the sagging of your facial muscles. This is the reason why a person with no teeth looks much older. Dentures also enable you to eat and speak normally, little things often taken for granted until natural teeth are lost.
To take care of your oral health, make it a point to brush your gums, tongue, and the roof of your mouth with a soft-bristled brush every time before you insert your dentures to stimulate circulation in your tissues and to help remove plaque. Regular dental checkups with your dentist is needed so we can examine your mouth and dentures to ensure a healthy and comfortable fit.