In Pain? We Can Get You In Today!
Pearl Dental Care welcomes all dental emergencies brought about by accidents, persistent toothaches or broken teeth. If you have lost a tooth, have broken teeth or have a toothache, we recommend you reach out to a trusted emergency dentist immediately.
There are many reasons to seek emergency dental care. Sometimes, the pain of existing problems such as abscesses, swollen gums or infected mouth cuts can be too much to bear. Any kind of tooth damage — broken dentures, lost crowns or fillings, or a broken tooth — should be taken care of immediately, but doesn't always happen at the most convenient time.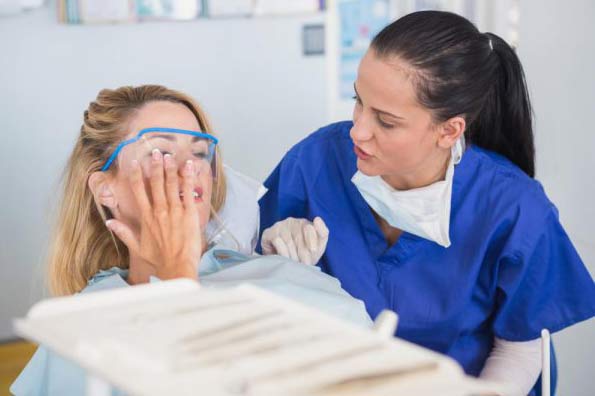 Toothaches
Toothaches need to be treated as soon as possible. It is a sign of an underlying dental problem and if left untreated the problem may progress and worsen over time. Treating a toothache early will almost certainly be less costly and extensive than if it is left alone.
Broken Teeth
Having a broken tooth means that there is a problem with your tooth itself. The causes for a broken tooth are decay, teeth grinding or an old filling. Whatever cause your tooth to break you must see an emergency dentist to have it treated immediately. Your broken tooth may become exposed and give way to infection from bacteria and this will lead to more serious dental problems like gum disease not to mention a bothersome pain in your mouth.
Suffering from Dental Pain? Get Relief Today
Call for Same-Day Emergency Dental Appointment
909-344-3543
Dr. Changela and Mandeep Patel Is a Top Rated Emergency Dentists in Pomona

Knocked-out Tooth
Accidents and injuries from sports and other activities can occur. If you get your tooth knocked out accidentally, we recommend placing the patient-and-dentist-talking-about-her-toothacheknocked out tooth in a container of milk and bring it immediately to an emergency dental office. If it is within 1 hour, there is a possibility that we can still save the tooth. Take care to NOT wash the broken tooth under water.
Chipped Teeth
Chipped teeth are some of the more usual dental emergencies. Chipped teeth are not necessarily a big problem unless a tooth is broken in a large piece, which will then make the tooth vulnerable to infection. An infected chipped tooth needs to have a filling as soon as possible. Generally, the emergency with a cracked tooth is that this imperfection can lower with your smiles and lessen your social interaction. Having a large part of your front tooth broken will have a major effect on your appearance, affecting how it sounds when you speak, and your overall confidence when interacting with other people.
A dental emergency should be addressed as soon as possible. Getting the right treatment done can save your teeth as well as relieve your toothache and discomfort.
Trust our Pearl Dental Care emergency dentist to look after your dental problems, call 909-280-7180 today.





We Accept Most Insurances

Care Credit, Credit, Cash, & checks are also welcomed.